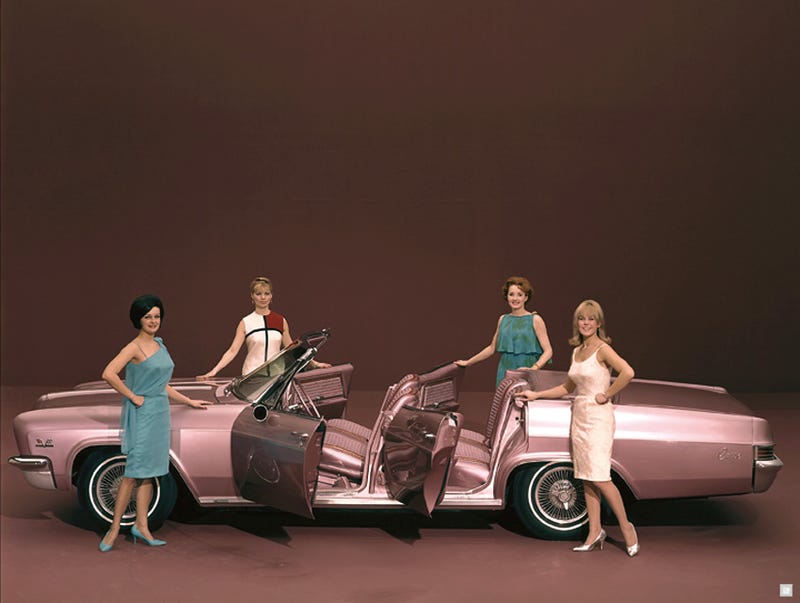 Or well at least the basis was, as General Motors used a standard Chevrolet Impala Limousine Sedan for their color-beaming 1966 Chevrolet Caribe Convertible Sedan. So it's not only you guys simply cutting of the steel roof of your car – GM once did this as well.
The concept car, named Chevy Caribe Convertible Sedan, was presented in 1966 as the perfect getaway for housewifes that wanted to take their five best gals for a ride under the Californian sun. Looking at the exterior color of the concept car there never ever was a chance that a male would have driven the drop top instead, I guess. Six people were able to drive topless (talking about the roof, not the shirts!) and the entrance to the rolling domicile was provided by four doors. The soft top could be stored, supported by an electric motor, under a solid cover behind the rear seats.
A funny marginal note: If anyone of you noticed the cool wire wheels mounted on the pictured car, don't crow too soon – it's just hubcaps on steel wheels!

If you wanna check out more unusual concept cars that General Motors once built in their long history, simply go on reading about the Chevy Opala, the Corvairs of your dreams or the crazy GM Phantom. Oh and there once was a Station Wagon Corvette as well and the Cadillac guys were the first to use the El Camino moniker, in case you didn't know.
In business life Bjoern Marek enjoys life as the Head of Public Relations of ABT Sportsline, the worlds largest tuning company when it comes to cars from VW and Audi, sold in more than 50 countries worldwide. In his spare time he loves to drive some of his old american classics like a 1995 Dodge Viper or 1949 Studebaker in southern Germany.