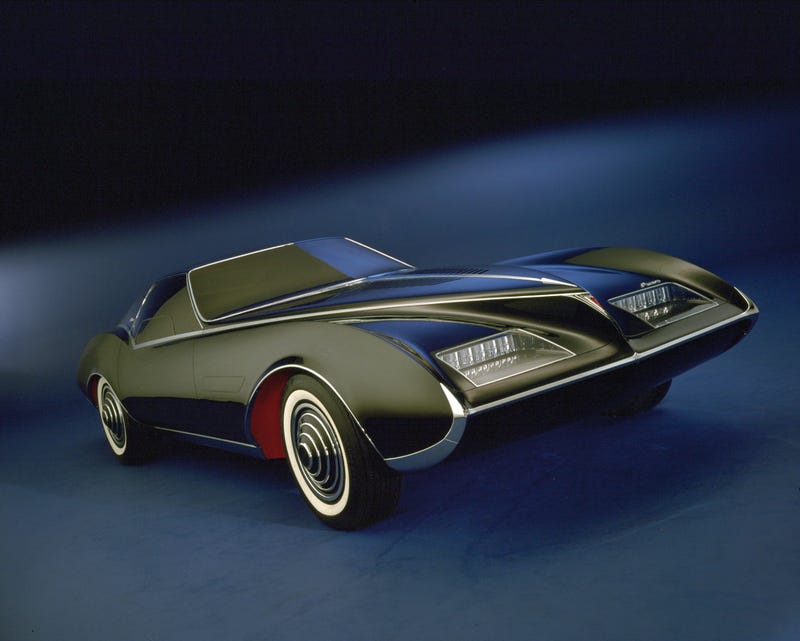 When thinking about concept cars in general, not just referring to General Motors, you often see the hottest and wildest thoughts put on wheels for the motor show floor – but when it comes to the final product the designers lose their courage it is the bean counters that destroy these visions. In the end we finally are looking at another boring product for the street that has lost most of its dramatic art the original concept once had. This section of Jalopnik is devoted to the pre-production cars that never made it to the street being available to customers, like the Station Wagon built on the first Generation Corvette or the El Camino by Cadillac.
Today it's a Phantom I want to talk about, sleek, dark and absolutely cool in appearance. It was GM styling director William "Bill" L. Mitchell who directed and finally let someone of his team built the concept car in 1977. It was his last project shortly before he retired from his job at General Motors. The black coupe was his personal expression and interpretation of the cars once driven in the Gatsby era of the 1920's. "This is the kind of car I'd like to drive", Mitchell once stated.
Mitchell and his team started with the chassis of a Pontiac Grand Prix, but moved the seats, dashboard and all of the controls a lot more to the rear just to bring the "long hood, short deck"-theme to the extreme. The Phantom was built out of fiberglass, just had two seats and featured a lot of styling influences normally seen just on European cars this time. There were conical wheel discs, multi-unit headlights and fixed door windows with small roll-down parts as well. The hood featured a lot of louvers, the side of the Phantom one hell of a "hip-swing" that reminds us of the Boattail-Rivieras from the early Seventies.
The exhaust system ended in the middle of the sleek rear of the deep black coupe – although the concept was never meant to be driven as there never was placed an engine under the hood. Wouldn't it be cool to drive this thing to a classic car show in the present age?
In business life Bjoern Marek enjoys life as the Head of Public Relations of ABT Sportsline, the worlds largest tuning company when it comes to cars from VW and Audi, sold in more than 50 countries worldwide. In his spare time he loves to drive some of his old american classics like a 1995 Dodge Viper or 1949 Studebaker in southern Germany.